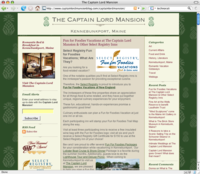 Kenneburnkport, Maine, is more than just the summertime hangout for the Bushes. It's a beautiful resort town on Maine's southern coast, featuring great restaurants, shops and beautiful bed and breakfasts.
Flyte recently launched a blog for one of the more romantic bed and breakfasts in Kennebunkport, The Captain Lord Mansion.
Rick Litchfield is the Captain Lord innkeeper and resident blogger. He blogs about events, food and drink, and places to check out in Kennebunkport. Recently he wrote about vacations for foodies, wind sculptures at the Maine art gallery, and scenic sailing trips on the Schooner Eleanor.
In short, he's doing what every good innkeeper should do: being a great resource for his guests and other tourists in his town. He's just leveraging that knowledge by publishing it in a blog.