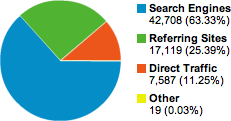 In our Holistic Web Marketing model, there are four aspects of an integrated approach to online marketing:
Attraction (driving quality traffic to your site)
Retention (staying in touch with prospects, getting return visits)
Conversion (getting them to buy or take the next step in the buying process), and
Measurement.
It's the measurement that we'll be focusing on at our next Working Lunch Seminar called Google Analytics for Online Success!
Why is analytics so important to your Web marketing success?
What search engines are sending you the best quality traffic?
What
search terms are most likely to lead to sales on your Web site?
Did
that recent spike in traffic lead to anyone filling out your contact
form or signing up for your email newsletter?
Google Analytics is an incredibly powerful analytics program that
can answer all of these questions and more. Best of all, the price of
the software can't be beat: $0.
Attendees will learn:
How to setup Google Analytics.
How to navigate the new interface of Google Analytics.
How to read reports, and which reports are essential to your success.
How to set up Goals so you can track which traffic is converting at your site.
How to have your reports emailed to you.
Lunch is included for all attendees and we offer a 100% money-back guarantee if you're not satisfied.
Seating is limited to just 10 attendees, so learn more and register now!

Date: Wednesday, July 11th, 2007
Time: Noon – 1:30pm
Place: flyte's offices, Portland, Maine (directions)