Here at flyte we've been using Basecamp for years. It's an online project management software package and I can't imagine running a business without it. (Internally and with clients we refer to it as the Hangar, but that's because we got the whole flyte thing going.)
The one thing it doesn't do (well) is time tracking for billing purposes. Enter Tick.
Using Basecamp's API, we can enter our time into Tick and track our time to make sure we come in on budget. We haven't been using Tick long enough for me to give it a big thumbs up yet, but their attention to detail and their sense of humor has me rooting for them.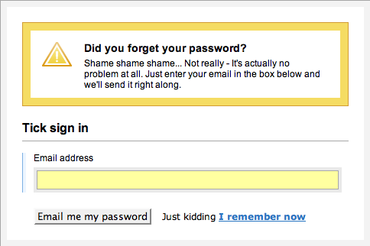 I especially like the link that allows you to enter your password if you suddenly remember it: "Just kidding I remember now." No, they're not going to end up on Letterman, but it's still funny.
Their FAQ is also well written. It's simple and it uses plain English to explain things.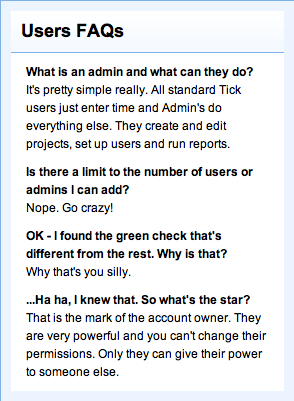 These are the kind of things that really make a difference. It feels like I know the people at Tick, even though obviously I've never met them. It makes me think that if I had a question or a problem they'd work with me to solve it. My wife Cybele, who's heading up this initiative, has told me that the people at Tick have been very responsive to her questions. I'm not surprised.
As I work more with Tick I'll probably write a more formal review. However, the take away is for you to look at your own site and see if you can inject some of your own personality into it. If you're not funny, don't worry. It doesn't have to be funny, but you should strive to be authentic.