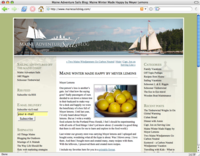 Are you ready for a sailing adventure off the Maine coast? Then Maine Adventure Sails is ready for you.
Maine Adventure Sails is a partnership of two schooners, the J&E Riggin and the Timberwind. You and your family can enjoy a true adventure on these historic sailing ships that cruise the Maine coast.
Maine Adventure Sails already had a Web site for their partnership, as well as for each windjammer when they came to flyte. They were looking for help with their search engine rankings and their Web marketing in general.
We all decided that a Maine Adventure Sails blog would be a good addition to other online and offline marketing they were doing to promote their unique family adventures. The blog will focus on the ships, sailing, family vacation tips, sustainable business practices, Maine food and recipes and more.
Why Maine food? One of the captain's wives–does that make it sound like he has more than one?–is Annie Mahle, a food columnist for the Portland Press Herald and author of At Home, At Sea: Recipes from the Maine Windjammer J & E Riggin.
I know Annie through MEBSR–Maine Businesses for Social Responsibility–and she treated board members to a day trip last year on the J&E Riggin. It was one of the most amazing days I've spent in Maine and the food she prepared was unbelievable. Just check out her post on meyer lemon recipes.
Whether you choose the J&E Riggin or Timberwind, you're sure to have a vacation you'll never forget. And be sure to check out their blog at Maine Sails Blog.