We've been planning on revamping the flyte site and other marketing materials for a while now, and I'm really trying to get it all done by May when we turn 10. I've been looking at our home page for a while now, and trying to decide if I should rewrite it.
While I was mulling it over, I decided to see if anyone was "borrowing" from it. Turns out there were two culprits that Copyscape turned up.

The first one is Exact One Media at http://www.exact1media.com. (No link love, sorry.)
According to the whois tool over at Domain Tools, this site is run by a Robert Rambin of 10761 Burbank Blvd., North Hollywood, CA 91601 who can be reached at aexact1@yahoo.com.
Their blurb on their home page is stunningly like the one we've had up for the past few years. Since Copyscape didn't show me them before, I think they've only recently started stealing from us.
Here's a close up of their blurb: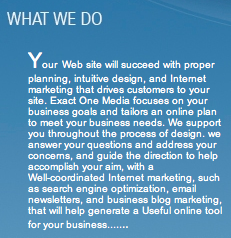 The other company is Web World Creators, although perhaps they should be called Web World Recyclers. They can be found at http://www.webworldcreators.net/
According to Domain Tools, this company is run by Ron Broderick (ronb@ronb.com) out of 12465 Barnard Way, West Friendship, Maryland 21794. Hey, Ron, you're not being too friendly! If you want to borrow tools from my shed, you should ask first!
WWC claims they deliver:
ongoing support, regular updates, reliable hosting and sound advice…because you don't need a Web site…you need to grow your business.
which is taken nearly verbatim from our home page.
Hmmm…maybe I should thank these two companies. After all, they've showed me that our copy may still hold up after all these years.