OK, Congressman Tom Reynolds. I played along.
I listened patiently to your underlings who told me I had been awarded
a National Leadership Award and then hit me up for $500 to place my
name on an attack ad in the Wall Street Journal.
I took notes as they told me that I would receive my gavel and plaque
regardless of whether I donated money or not…for I was a National
Business Leader. I specifically asked the 3rd operator who assisted me
if I would receive the gavel and plaque even if I didn't
participate in this giant charade (although I don't believe I used the
word "charade.") He said yes…grudgingly.
In fact, I blogged about the whole thing here.
It's one of my most-commented-on blog posts, as it seems I was not
alone in being awarded a national leadership award by a congressman far
outside my district.

And I might have let it die there if you didn't screw me, but you did.
Today I received a packet in the mail from you. Among other things, it included the following:
1) A handsome photo of our current president.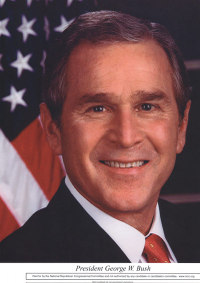 2) A letter personally thanking me stamped by you in which you invite
me to "other high profile Washington events — like the annual
President's Dinner." I assume the operative word here is like.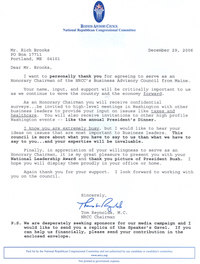 3) A piece of paper that is definitely NOT a plaque naming me Honorary
Chairman of the Business Advisory Council.
My first order of business?
Correctly defining the word plaque: a thin, flat plate or tablet of metal, porcelain, etc., intended for ornament, as on a wall, or set in a piece of furniture, versus paper: a
substance made from wood pulp, rags, straw, or other fibrous material,
usually in thin sheets, used to bear writing or printing, for wrapping
things, etc.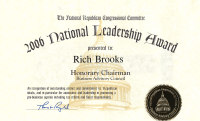 4) A certificate for a Speaker's Gavel that is completely dependent on
me contributing $200 to the NRCC! What?!? To paraphrase Jon Stewart, "I
have to inform you: your pants are on fire."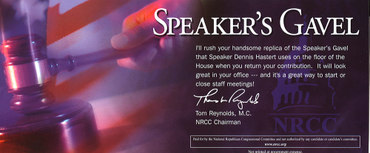 The only thing that separated this from an outright scam in my mind was
that regardless of my donation to your group, you were sending me a
gavel and a plaque.
Even the copy on the I.O.U. was cheesy, coming across like a late-night
informercial: "I'll rush your handsome replica of the Speaker's Gavel
that Speaker Dennis Hastert [sic] uses on the floor of the House when you
return your contribution."

Congressman Tom Reynolds: Save your soul! Send me my damn gavel. (You can keep the plaque.)