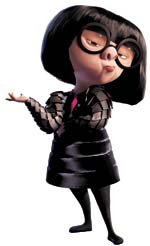 One of my favorite scenes from The Incredibles was when Mr. Incredible was describing his perfect super suit to Edna Mode, "like Dynaguy. Oh, he had a great look! Oh, the cape and the boots…"
"No capes!"
She had her reasons.
Do you remember Thunderhead? Tall, storm powers? Nice man, good with kids. November 15th of '58! All was well, another day saved, when? his cape snagged on a missile fin! Stratogale! April 23rd, '57! Cape caught in a jet turbine! Metaman, express elevator! Dynaguy, snag on takeoff! Splashdown, sucked into a vortex! No capes!
So why would I be talking about Edna? As a thinly veiled excuse to show off her intriguing beauty? No.
Because we've all been told that the client is always right. Except, when they're not. As a small business owner I try and be open when a client has an opposing opinion from my own. After all, if I learn something new every day, that means I still have tens of thousands of things to learn. I'm wrong every day. (Please, don't let my wife see this post.)
Recently, when listening to a podcast on Internet marketing by Bastion Internet, the speaker said that he had a responsibility to making sure his clients looked good, as if they were going on a first date. It's a good metaphor.
Ultimately, the client is paying the money and they shouldn't have something forced upon them. However, don't we owe them something more than our skills or our craftsmanship? Don't we owe them our experience and our expertise? If they want to use our kite string for a bungee cord, don't we owe them our expertise to tell them it's not the right tool for the job?
Recently a couple of jobs haven't gone as smoothly as they could have because we let clients dictate the terms on how they would work with us, taking us out of our game. Hindsight being 20/20, I wish I could go back to the old me and say, "convince them to lean on our expertise in this matter. They'll get a better product for a lower price and be happier at the end of the day. If they don't want to do it that way, consider whether it's worth pursuing the relationship with them."
Is this a fancy way of saying "my way or the highway?" I don't think so. It's more like saying, "no capes!"
Tags: Edna Mode | The Incredibles