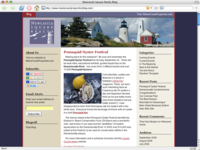 A couple weeks back I posted about the launch of a Web site for Newcastle Square Realty. At the same time we launched their Maine coast properties blog, which is really starting to come into its own.
What I like about this blog is that it's only peripherally about Maine coast real estate. Most of the posts are about what's going on around Damariscotta, Pemaquid, Newcastle and the surrounding area.
Recent posts talk about the Pemaquid Oyster Festival, a history lesson on the Colonial Pemaquid State Historic Site, and a midnight kayaking trip on Musconous Bay.
However, this isn't to say this isn't a business blog. The properties that Newcastle Square Realty features tends to be high-end second (or third!) homes. People are trying to decide between buying a house on the Maine coast or Nantucket, for example.
By promoting local activities, festivals and the unmatched beauty of the Maine coast, Newcastle Sq. is showing what an amazing and active place their neck of the woods can be.
Even if you're not planning on buying that second house just yet, take a look at the Newcastle Square Realty Blog and see the way life should be.
BTW, aren't you ready to have flyte redesign your own blog?