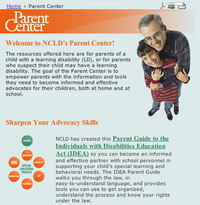 Yesterday the National Center for Learning Disabilities (NCLD) launched the Parents Center of their newly-designed Web site.
As they put it:
This new section of ld.org is dedicated to parents who suspect their child may have a learning disability, or may already have a child receiving special education support and services. We're offering many new tools, resources and helpful information including:
A Parent's Guide to IDEA – an in-depth, easy-to-read explanation of the Federal special education law that determines educational rights and opportunities for students with learning disabilities. The Guide includes checklists, sample letters and audio clips of parents telling their own stories of meeting challenges in their LD journey.
Parent Advocacy Briefs – short guides to issues like high stakes testing, which many parents confront as they work with schools to provide a high quality, supportive education for their children with learning disabilities and Response to Intervention (RTI).
Articles on reading fluency, college planning, the social aspects of LD and more.
Flyte had the privilege of helping NCLD on the design and development of this section of their site (the image above gives you an idea of the sandbox we had to play around in.) We also designed the PDFs that have been developed for this guide.
Rich Brooks
The Unofficial Web Developer for LD Organizations
Tags: Learning Disabilities | LD | Special Education | High Stakes Testing | National Center for Learning Disabilities