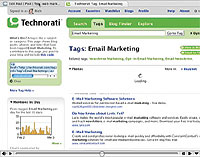 If you want to drive more traffic to your blog and be found by your targeted audience (and really, who doesn't?) try tagging your posts.
Tags are a concept that took me a long time to wrap my head around. (OK, maybe I'm not the sharpest spoon in the drawer.) In short, it's a way of organizing content on the Web. For example, I might "tag" this post with "Technorati," "tags," and "TypePad." But not all tags have to start with T.
Tags are very hot right now as a way of organizing things on the Web. Flickr, the photo sharing Web site, uses tags to help people find, share and organize photos. del.icio.us uses tags to help people do the same with bookmarks.
By tagging your posts appropriately you can tap into an audience who may not have found you otherwise.
Technorati, probably the most popular blog search engine, uses tags as one of their main ways of helping people find blogs. (A general search, a directory and their "explore" feature are the others.)
From my limited experience, Technorati uses your categories as tags, so if you've been categorizing your posts, you're already taking advantage of tagging. (At least from Technorati's view.) However, you may have some posts that may touch on a subject that doesn't work as an ongoing category for your blog.
For instance, I was consulting a marriage counselor and coach yesterday about his blog. He was looking for ways to get more traffic to his blog. I asked him if he had seen Walk the Line. He said no. I told him to go see the movie, and review it from the standpoint of a marriage counselor. (If you haven't seen it, it's framed as a love story.) He could then tag his post with Walk the Line, Joaquin Phoenix, and Reese Witherspoon, as well as Marriage Counseling, Relationship Coach, and so on.
In short, he could ride the coattails of this popular film while adding to the conversation. I only suggested this to him because I felt he could add to the conversation in a positive way. I don't recommend tagging inappropriately. (Would you call this "spagging?")
If you're using WordPress, there's a plug in that allows you to just type in tags and WP will add them in the appropriate place. We have this functionality over at Business Blog Consulting.
In TypePad, you can easily hand code tags (if you're comfortable with HTML), although Technorati makes the process easier. Rather than try to explain it with a bunch of screen captures, I've made this little movie on how to add tags to your TypePad posts. (4MB, QuickTime.)
Enjoy!
Tags: Technorati | Tags | Tagging | TypePad