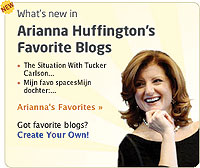 This morning I noticed that Technorati has a new feature: Celebrities' Favorite Blogs.
Now, of course you can roll your own favorites list, or "blogroll", as some of us in the industry call it, but Technorati's promoting it by using some familiar names, such as Arianna Huffington, David Sifry and Doc Searls.
So, although the blogosphere is a place where anyone can have a soapbox, we're still victim to the fact that we live in a celebrity culture. (I know some people would argue that these aren't necessarily household names, but these people are well-known in the blogosphere.)
The bottom line is that due to the promotion, sites that are favored by these people will continue to grow in popularity, perhaps at the expense of other blogs. A different argument would be that all boats rise with the tide. And it is possible that these people will turn many of us on to great, undiscovered blogs.
Is this a good idea, to promote the favorites of just a few? Well, the site is called Technorati.
So, what to do? Start kissing Arianna's ass, I guess.
Rich Brooks
Arianna, David, Doc…I Love You, Man!
Tags: Technorati | Technorati Favorites | Celebrity Culture | David Sifry | Doc Searls | Arianna Huffington | Christopher Michel