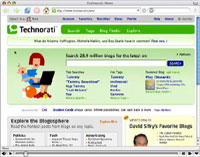 Setting up a Watchlist at Technorati is easy, especially when someone shows you how. That's why I put together this short video tutorial on how to set up a watchlist at Technorati. (QuickTime, 3MB).
Before you start you'll need a free Technorati account. Once you've got that taken care of, log into your account and set up your Watchlists.
What is a Technorati Watchlist?
It's basically a saved search. Unlike a traditional search engine, you'll probably be searching for the same topics again and again…"email marketing," "Web marketing," "Rich Brooks", "rich brooks", "brooks, rich." You get the idea.
By creating a Watchlist you'll be able to find the newest posts on your areas of interest with the click of a mouse. Keep tabs on what people are saying about you, your competition, your industry, or free agency rumors on Adam Vinatieri.
Once your Watchlist is set up you can find it on your Technorati home page or subscribe to the RSS feed.
I've found that Watchlists on subjects like "email-marketing," "business-blogs," or "web-marketing" often lead me to great ideas from others that I then steal integrate into my own blog posts. Also, it often uncovers great new blogs that I would have otherwise never found, and can often lead to new connections (and new places to leave comments and trackbacks.)
Why the hyphens in the Watchlists above? They seem to pull better results as the words are connected. Without the hyphen Technorati doesn't seem to care if the words appear anywhere near each other.
How do I set up a Technorati Watchlist?
Watch the movie!
What are some alternatives to Technorati Watchlist?
There are dozens of ways to stay abreast of topics in your industry. Two that I've used in the past are Google Alerts and PubSub. Google Alerts tends to send you news and press releases about a given topic, while PubSub tracks blogs and Web sites.
Tags: Technorati | Watchlist | Business Blogging | Google Alerts | PubSub