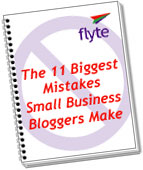 It's easy to get started blogging…today's blogging software is inexpensive, easy-to-learn, and does most of the heavy lifting for you.
However, it's a lot more difficult to build a successful blog: one that attracts prospects and clients, establishes you as an expert or an industry leader, and helps you attain search engine "findability."
I wish the "today" me could go back and talk to the "then" me (November 3, 2004, to be exact) and give him some good advice on business blogging. It would have saved me a lot of time and frustration over the past year.
If you're interested in learning from my mistakes, check out The 11 Biggest Mistakes Small Business Bloggers Make. It's a free download.
Plus, if you've got some of your own mistakes that you'd like to share, please take advantage of our comments and trackbacks below.
Rich Brooks
Mistake Free Since November 16th, 2004
Damn, I meant 2005.