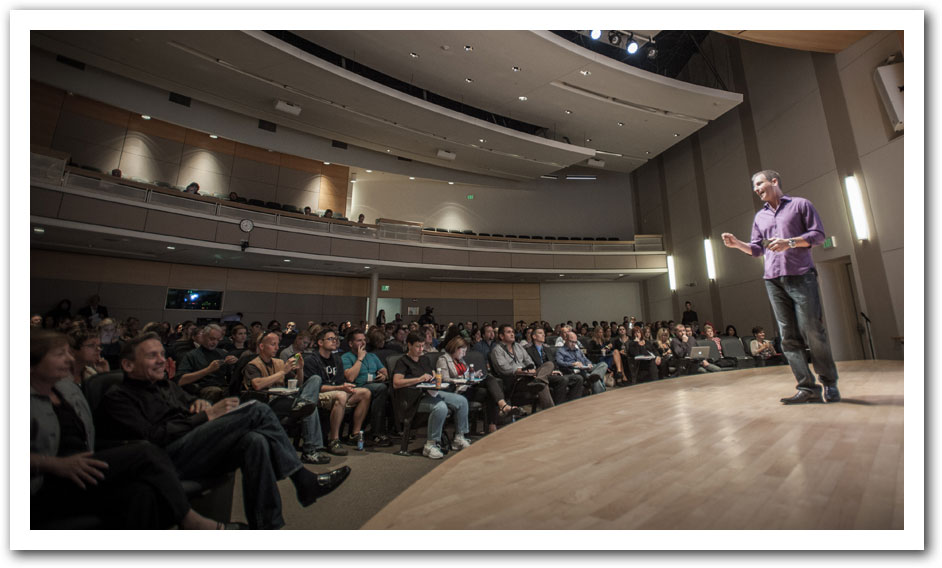 Do you need a professional, experienced speaker for your next conference to speak on social media, search engine optimization, or building a business on the web?
"That was one of the best presentations I have seen in 35 years with Fortune 100 companies."
— Roy Hebert
Vice President of Tyco
Rich Brooks
Rich is founder and president of flyte new media, a web design and marketing firm in Portland, Maine. He is a nationally recognized speaker and expert on social media and digital marketing.
He presents on web marketing topics such as Facebook Marketing, YouTube, blogging, search engine optimization, email marketing, and building websites that sell.
He is currently an Expert Blogger at FastCompany.com and a regular contributor at SocialMediaExaminer.com.
He is a founder of The Agents of Change Digital Marketing Conference, an annual conference on search, social & mobile marketing.
He is the "tech guru" on Maine's NBC affiliates' evening news show, 207, and teaches web marketing and social media courses for entrepreneurs at the University of Southern Maine's Center for Continuing Education.
"Rich, your Twitter webinar was outstanding. You were great, and thanks for condensing your technical wizardry into just an hour. I learned a ton and it was much more fun than one of those stuffy online how-to's. I signed up for the next two also."
— Allison Kurpius,
The Marketing Source
Speaking Experience
Below is an abbreviated list of some of Rich's featured presentations.
Presentations for the Industry
BlogWorld/NMX 2014, 2012, 2011…
Social Media Marketing World 2013
Social Media Success Summit 2013, 2012
The Agents of Change Digital Marketing Conference 2013, 2012
Presentations for Organizations
National Association of Professional Organizers Annual Conference: 2013, 2012, 2011…
On Rite Annual Client Conference: 2013
Maine Innkeepers Association: 2013, 2011, 2010…
Maine Restaurant Association: 2013, 2012, 2011
Maine Medical Association Annual Conference: 2013
[Rich's] session offered more relevant, tangible, actionable content than I can recall gaining from an information session in a long time. And I realize that this is his line of work but that's not the half of it. Rich connected with the audience in ways that very few presenters do, as was clearly evidenced by the Q&A ongoing throughout the session.
–Christopher Speh
Board Chair at Common Good Ventures
Sample Topics
Facebook Marketing for Small Business
The Social Sale: Turning Likes Into Leads
Search Engine Optimization: Rank Higher, Sell More
How to Use Twitter for Business
YouTube Marketing
Creating a Digital Marketing Action Plan
"[Web Marketing for Entrepreneurs was an] excellent presentation with supporting materials from an extremely knowledgable instructor."
— Margie Kelly
Next Steps
Contact us today for more information or to see videos of past presentations Rich has put on.
Your session was phenomenal. We will be making some changes in light of your education on how to harness the power of Facebook, LinkedIn, and a clear call-to-action. Thank you!
–Alex Gaeth
CEO at Big Brothers Big Sisters of Mid-Maine