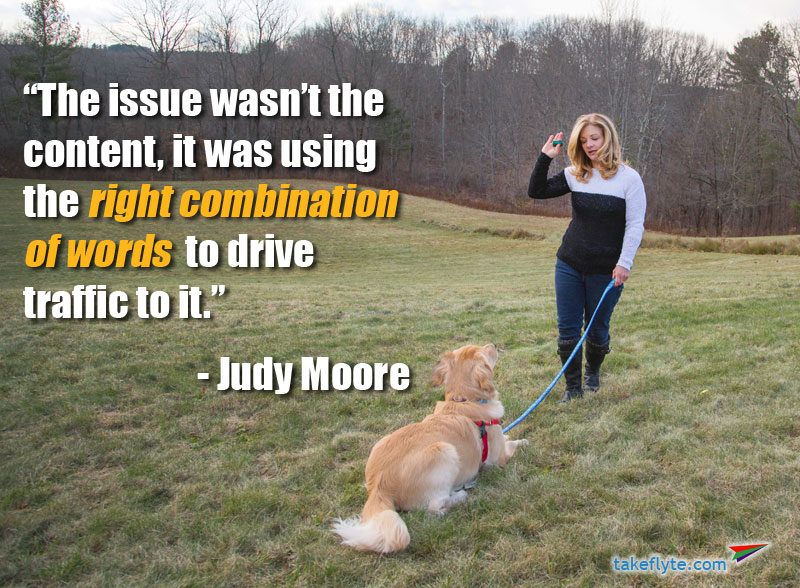 Are you still on the fence about whether digital marketing will grow your business? Do feel that you're just trading hours for dollars, so your income is limited? Do you feel trapped by where you live and work in terms of entrepreneurial growth?
Sometimes all you need to shift your perspective is the story of someone just like you, who made some changes and saw huge results. Judy Moore is that person.
In my Agents of Change Podcast, I interview digital marketing experts each week on topics like SEO, social media, email list building and more. Lately, I've been adding a new segment called "From the Trenches" where I interview not experts, but the people who are doing the work in their own business or the company they work for.
Judy was a recent interview, and how her business has changed in just over a year will hopefully inspire you to take some of the same calculated risks to grow your own business past the limits of location or how many hours you can work in a day.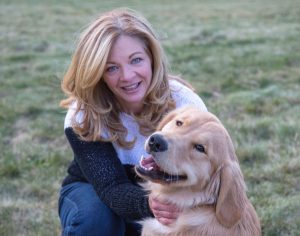 Interview with Judy Moore, Canine Entrepreneur
Rich: I'm here with Judy Moore of Canine Behavior Counseling, to talk a little bit about what it's like when you're doing your own marketing. Judy, welcome to the show.
Judy: Thanks for having me.
Rich: Judy, tell me a little bit about Canine Behavior Counseling and what you do over there.
Judy: So I started the company in order to help dog owners who have problem dogs. Problem dogs might be a dog that barks too much, it might be a dog that's growling at humans, maybe it doesn't walk on the leash very well. So my objective was to be able to use positive methods to help create a better relationship between owners and their dogs and really help owners understand why is it their dog doesn't want to pick their nose up off the ground or why it is that their dog is so impatient.
So it's been a very fun journey and I'm still working on the business, still growing the business.
Scheduling More Business
Rich: That's great to hear that it's still growing. So last year you revamped your website, did you add any new tools or functionality to the site?
Judy: I did, yes. When you and I got together in the summer of 2014, we talked about a big part of my goal was to be able to create an identifiable brand and increase the online visibility. And if you recall, I had a blog at the time, but I also had a much older website.
So one of the things that was great that we were able to do was create a fresh, new look on the website, and be able to combine it with my blog so that it was easier access for my clients because everything was in one place.
Rich: That's great. Now did you have the scheduler on your website in the previous version, or was that a new thing as well?
Judy: That was definitely a new thing, and I couldn't be more happy with my scheduling. That has been great, a huge timesaver for me to allow my clients to go right on my website and schedule an appointment. I love the scheduler.
Rich: Now what kind of things are people scheduling when they get to the website?
Judy: For example, earlier today I did a phone consult and that was something completely new. To be able to reach people outside the Portland, Maine area, I have been now offering a phone consult, which works out great. So they can go online and they can schedule 30 minute phone consults, they can go online and schedule an in home private session. "In home" means I travel to their house for an hour session with training in their home with their dog. And there's a specific fee for that. I've also added an in office fee where they travel to me with their dog.
The other thing that we've added was online class scheduling. Not only can people go online and read about the different types of classes, because as you can imagine, someone would call me with an 8 month old dog wondering if they should be in puppy class, or family dog or the outdoor adventure. So now I've been able to direct them to the proper link that has the description of the class, they can go right down and select the class, pay online – that was another thing that we added was PayPal – and it's a much easier function because now they can register for classes online.
The other benefit of the online registration, is the website will tell them when the class is full. So I no longer have 14 dogs showing up for a dog class when I only have 6 spots, because it only allows so many registrations for the class.
Rich: Very cool. It sounds like that schedule has saved you a lot of time and energy and allowed people to self serve.
Judy: A lot of time. A lot less time on the phone which has been great.
Rich: That's cool. Do you remember what the name of the scheduler app is that you're using?
Judy: No, I don't.
Rich: That's ok, we'll find it and put it in the show notes. [Event Espresso.]
Driving Traffic & Generating Leads
Rich: How are people finding you? What kind of digital marketing – I know you've got an assistant that's working with you – what kinds of things are you guys doing together to market your business online?
Judy: I think a couple things that we've done new for the website end is we've added the lead magnet, which has been great. And I love that I can change the lead magnet.
For example, if I have a seminar coming up, I can have that lead magnet show. And I have the lead magnet as well as the popup – or the Lightbox, I think we call it – so I can direct people to a particular seminar that's coming up in the next few weeks. I've also learned how to do a much better job at my newsletter. It wasn't so much about the content – I have good content – but it was really using the right combination of words to drive traffic to it, and the right wording to have the headlines.
The other thing I think I added was Constant Contact. My numbers have tripled from the Constant Contact and I'm sending better newsletters out with that, which I think has also helped a great deal. I guess I should also say I've done a lot more on Facebook.
Rich: Alright. Well first of all, very cool, because growing your email list is something we constantly talk about on this show, so I'm glad that you're taking some steps towards it. Like you said, you've got these lead magnets, you've got the pop ups/lightbox, as a way of capturing more people once they come to your website so that you can stay in touch with them.
Give us a little taste of what you're doing on Facebook to engage your audience, as well.
Judy: So one of the things I'm doing on Facebook is I'm using more videos, because I think they're eye catching. So rather than just looking at a picture with the class title, I'm actually showing them a 12 second clip of what the class looks like and what the dogs are doing by week six. That way people wonder if they can really get their dog to behave that way. So I think with Facebook, adding a visual clip has been one of the biggest successes.
Rich: I just came back from Social Media Marketing World and everybody's talking about live video, especially live video on Facebook or video in general, and it sounds like that's been working really well for you. So that's great to hear, too.
So one of the things you shared with me when we chatted, is you have been able to increase what you charge per hour. So that's also great news, you're getting paid more per hour and you're having to do either less work for the same amount of money, or the same amount of work and making more money.
Judy: And that was a big thing, I remember when we talked awhile back I said I want to work smarter and not harder, so by increasing the effectiveness of the website and the scheduler and the tools there, my percentage on my private, I've increased in approximately two years 56% on my individual hourly rate, and about 25% on my class rate. And I can honestly say all of my classes are still full, which is really, really nice. When I look at Facebook numbers, I think my Facebook numbers went from maybe 600 "likes" to closer to 1,800 in less than a two year span. So it's definitely working.
Rich: That's fantastic. Now have you done any Facebook ads to help you reach a wider audience, or has this been organically?
Judy: I have done Facebook ads.
Rich: That's excellent. And you found those to be effective?
Judy: I did find them, absolutely.
Rich: And what are you looking to accomplish with the Facebook ads, to get more "likes" or to drive people to your website?
Judy: I think both. I think I definitely wanted to drive more people to the website, that was a big goal of mine. And I'm also creating much more awareness in the area of what my services are. So I do think when I put things on the website that are unique to the classes that I teach – and my classes are a little unique to other Maine dog trainers – so that awareness, as well as driving the "likes", is both helpful.
Moving Away from Trading Hours for Dollars
Rich: Very cool. Is there something that you're planning on in terms of digital marketing? Is there something that you want to try next and see if it works for you, or are you pretty much feeling like you've got everything firing correctly right now?
Judy: Well back in August of last year, we talked about doing online learning. So what I've done is I got with Nate Bowman, a videographer, and we got together and we have created our first online video – we're in the process of coming up with a name for it – nearly all the editing is done. So hopefully, Rich, within the next few weeks I'm going to have my first online video where people can go on if they want to learn how to control their dog without a leash, they can buy this video from Judy Moore off the website, and it's a way of making income for me instead of trying to add another six week class where it's taking more of my time. I've videotaped the class and now I'm going to be able to sell it.
Rich: That is awesome. I love how you are stopping to trade hours for dollars and creating something that can reach so many more people past your geographic area, and really help a lot of dog owners out there. So that's fantastic. Congratulations on that one.
Judy: Well thank you, I appreciate that. I'm getting between 5-7 clients a day, and that's no exaggeration, they come in through my contacts on my website. I can tell you this week I've had 3 people out of the country. So you know what, that's an opening of selling a video. Sure, I can't go into their home and teach them about a dog relationship, but now I have something that's tangible that they can reach out to and say, "Here, I think this will help you."
Rich: Very cool. And since you're no longer to just working in Portland, Maine, why don't you share with everybody what your website address is.
Judy: The website address is www.caninebehaviorcounseling.com. I realize it's long, but I had to have the word "behavior counselor" in there because I'm the only associate certified dog behavior counselor in the state of Maine.
And why is that different? There are a lot of dog trainers, but what's different about behavior consulting is we actually get a feeling for who the dog is before we start implementing changes. For example, it's not a one size behavior modification plan for every dog, because just like you know that not all children are the same and the same teaching is not for every person. We now look at who the animal is before we start to make changes.
Rich: Very cool. Alright, so you guys can check out caninebehaviorcounseling.com, we're going to have links to it in the show notes. Be sure to check it out. Judy, thank you so much for coming on and sharing your story.
Judy: Thanks for having me, Rich.
Takeaways
Many of us would have been happy where Judy was: running a successful business and doing what she was passionate about. But Judy wanted to be able to spread her message farther than it would have otherwise. 
Through digital marketing (and her own hard work), she was able to create more demand which allowed her to raise her rates. She was able to reach new audiences through Facebook and SEO. She built her list through a lead magnet she created. She broke past geographical limits and is now doing virtual training. 
And finally, she created an information product that can help many more people than she could on her own, and she's begun to move past just trading hours for dollars. 
If you'd like to listen to the interview with Judy, it's at the end of this Agents of Change Podcast episode.
If you're in need of some training for your puppy or dog, be sure to check out Judy's Canine Behavior Counseling site. 
If you need some direction in how you can use some of these tactics and strategies for your own business, contact me today and we'll chat. 🙂