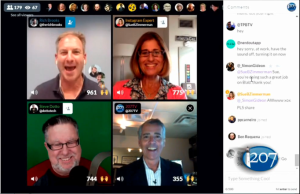 Have you checked out Blab yet? It's a new video chat platform that's incredibly powerful and easy to use. "Blabs," as the shows on Blab are called, are publicly viewable.
Up to four people can be on video at one time (as you can see from the image here or in the video replay below), but hundreds more can watch and leave comments in the side column.
If you're just watching (and logged in), you can pose questions to the moderator and his or her guests, and the moderator can even pull you into the Blab if you both are interested in that! (Imagine watching Oprah from home and being able to ask the guest your own question, and then having Oprah put you on the air!)
You can watch Blabs without logging in, but if you want to participate, you'll need a Twitter account to log in. 
Blab for Business
Video is obviously huge these days…besides YouTube, Vine, Instagram, and SnapChat, you have new streaming video platforms like Periscope and Meerkat. However, I think Blab has a real shot of earning a place at the table, and your social media marketing.
Blabs can be recorded, and then downloaded as audio or video files. Some people have already started using Blab as their platform of choice for recording podcasts or YouTube videos because of it's ease of use. I think it's a great way of creating real community engagement, and I can't wait to see how businesses start using this intriguing platform.
I plan on writing another post soon about ways you can use Blab to grow your business, but I wanted to share a recent Blab I put on, because we actually used it on an episode of 207, the evening news program on the NBC affiliates in Maine!
I got a chance to talk about our Agents of Change Digital Marketing Conference, and even bring on two of my presenters, Sue B. Zimmerman, the Instagram expert, and Steve Dotto, a YouTube marketing guru. 
At the time, Steve was in Vancouver and Sue was in Boston at the Inbound conference…but Blab allowed us to all be on the same interview with no additional software or hardware. We just opened up our computers (Blab is also available as an app on iOS and Android coming soon) and began the interview. It was truly a Jetsons moment. 
You can watch the craziness below!
What do you think? Is there an opportunity for your business to grow it's audience using Blab? 
Let me know, and share your Blab handle in the comments below. You can follow me on Blab here.