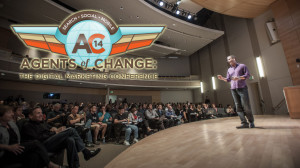 This September 26th, 2014, we're putting on our annual conference that's all about how you can reach more of your ideal customers with search, social, and mobile marketing. 
It's called the Agents of Change Digital Marketing Conference, and if you're reading this blog (or email newsletter), then chances are you're going to love it.
Imagine a full day of some today's top digital marketers sharing their best tactics and strategies on Facebook, LinkedIn, Pinterest and ranking higher at the search engines. Tips for building and engaging an audience. Advice on how to reach more customers on their mobile devices. 
In short: how to build your business in a digital world. 
That's what you're going to get at Agents of Change.
Marketing experts like Pat Flynn, John Lee Dumas, Chris Ducker, Cynthia Sanchez, Greg Hickman, Stephanie Sammons, Nick Unsworth, Nathan Latka, Heather Jackson, Rick Mulready, and Rich Brooks (that's me!) won't just be presenting, they'll be hanging out in the relatively intimate space that makes up Agents of Change. 
Sounds good, but what's it like?
Not sure what to expect? Here's a highlight reel from last year:
Your ticket gets you more than just a full day of great content, though. It includes breakfast, lunch, a free beer & pizza networking hour, and other networking opportunities throughout the day.
Tickets are only $249 for all that, but if you happen to see this post and act on it before 9/1/2014, you can save $50 on your ticket. And, because I like you, you can save an additional $50 by using the promo code "flyte".
Don't get left out. Grab your ticket now!
Why Maine?
Whenever I'm at one of those mega-search or social conferences around the country and someone finds out I'm from Maine I get one of two responses: either, "I've never been to Maine and I've always wanted to go," or "I used to go to camp in Maine as a kid, but I haven't been back in years." 
Well, now's your chance. Drive up or fly in on Thursday night, come to the conference on Friday, and spend the weekend enjoying Vacationland during the best time of the year. The days are warm, the nights are crisp, and you can't beat the rocky coast, the cobblestone charm of the Old Port in Portland, or the amazing restaurants we have.
And the best part is you can write the entire thing off as a business trip! (Please note that I am not an accountant nor do I play one on TV. You may want to speak with someone who knows what they're talking about.)
And of course, if you live here in Maine, then you know that September is the best time of the year. 
But I can't make it / I'm busy that day.
What's that? You can't make it to Portland, Maine on 9.26.2014?
That's OK. We've got a camera crew recording the entire event and live streaming it across the Interwebs! Not only can you watch it live, with your digital pass you can watch it on demand an unlimited number of times throughout the year.  All this for only $149…and again, it's $50 off if you order before 9/1/2014. And again, you can save an additional $25 at any time by using the promo code flyte.
What do past attendees feel about AOC?
Well, last year 100% of attendees who filled out the surveys said they would recommend it to a friend or colleague.
One. Hundred. Percent.
I almost wish someone had dissed it, just so it would seem less made up.
So that's it. That's my schpiel.  If you're running a business or non-profit, working for an agency, or involved in marketing in any way, you're going to get an amazing value out of Agents of Change this year.
To learn more about our presenters, check out this year's agenda, and to grab your tickets now, just visit The Agents of Change website.
If you've got any questions just reach out to me, Rich Brooks, and I'll be happy to answer them.
See you in September!