Attract more qualified traffic to your website with this simple report.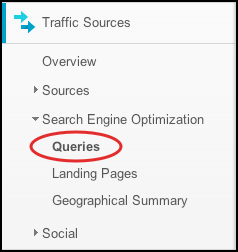 ATTENTION: Join us on 5/30/2013 for a FREE live webinar on Turning Likes Into Sales.
Businesses often strive to be number one at the search engines for their targeted keywords, and for good reason. A study last year showed that the number one result got an average 36.4% click through rate. 
The second place result? 12.5% and a set of steak knives. Third place and beyond? 9.5%, 7.9%, and 6.1% round out the top five, respectively.
In other words, moving from second to first can increase qualified leads to your site nearly 300%! So, how do you take advantage of this information? 
Well there's a new report (new to me, at least) in Google Analytics called Queries. You can find it under Traffic Sources > Search Engine Optimization > Queries. 
What does this report show? "The top 1,000 daily queries (by clicks) that resulted in impressions, clicks and click-throughs to your website," according to Google.
In other words, it shows you the keyword searches for which your website or blog showed up as a result (whether #1 or #200), how many times a day people searched on that phrase, how many clicks your site got, how well you ranked, and what the click through rate (CTR) was.
To make the most of this report, re-sort it from Impressions to Average Position, then flip it so that your highest position (#1) is at the top of the list.
Next you'll want to skip past the searches where you rank #1, and start looking for phrases where you rank 2.0 or lower.

Look for phrases where there's a decent number of impressions (let's say 200 or more) and your CTR is 50% or lower. In the example above, #187 (sorry, no peeking!) gets 200 searches a day, but flyte only get 35 click throughs for our number two spot.
Let's say the phrase is "Pinterest marketing tips." (It's not. Stop worrying about my keywords. We're talking about you here, right?)
With this knowledge there are two immediate actions I could take.
I could go to the Google search for "Pinterest marketing tips" and see who's number one and determine if there's something I could learn on improving my own page.
I could also head over to my blog and create a number of Pinterest marketing tip-related blog posts and link each one to each other and to my original article. That might be enough to push me to number one, and greatly increase the qualified traffic I'm getting to that page.
Search engine optimization–like football–is a game of inches…move up one spot and you can more than triple the qualified traffic to your site.
How much more business would that translate into for your company in the next year? Head on over to Google Analytics and start identifying the low hanging fruit on your own website today. 
If you need help installing, reading or analyzing your own traffic reports, or help driving more qualified traffic to your website, please contact flyte new media today. Operators are standing by.*
Rich Brooks
President
*We actually don't have operators. And even if we did, they wouldn't be standing. Chairs for everyone at flyte, that's our motto.