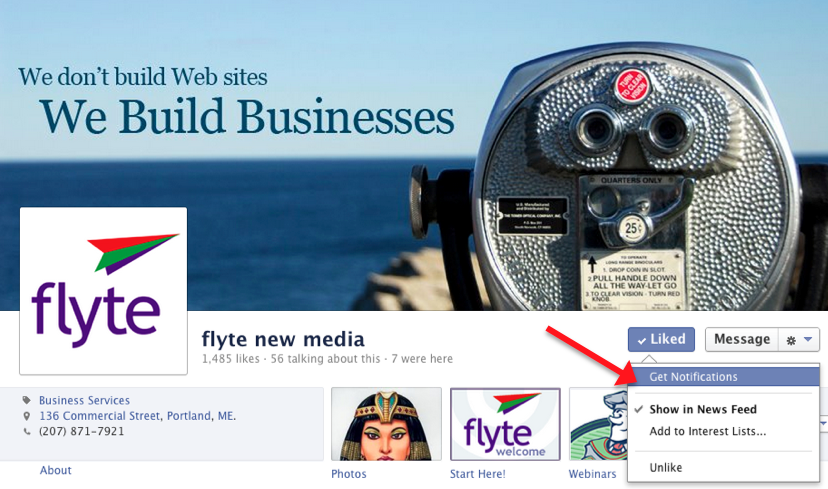 Now your fans can get all of your business page updates with the new Get Notifications button. Here's how.
Ever since Timeline was introduced it seems as though the only way we can get in front of our Facebook Business page fans is to pay to do so. Well, let your heart not be discouraged, Facebook recently introduced a new FREE way to stay in front of your fans. Enter 'Get Notifications.'
By checking off 'Get Notifications' you are telling Facebook what you are interested in and what you want to see in your news feed, rather than Facebook guessing. Once checked you will see all updates from that particular page in your news feed.
If you've been updating your news feed 5 or more times a day in order to improve your Edgerank, you may want to rethink that. Otherwise you'll hijack the news feeds of those followers who get everything.
At this point we aren't sure if Facebook will give you the information on how many of your fans have opted to get notifications. However, you may have noticed that some pages are already marketing this function.
Here are the steps we recommend to get your current fans to sign up for your notifications.
Create an update asking your fans to click the 'Get Notifications' button. Let them know that you will not be burdening them with an obscene number of posts.
Instruct them on how to they can get notifications. It can be found one of two ways. 

You can hover over the 'liked' button on the Facebook page that you want to receive the notifications from (see image above) 
You can hover over the liked button in the newsfeed to click off 'Get Notifications.'

Create a Promoted post, so that more of your fans can see the update.
You may not have this on your page yet. Facebook is slowly rolling it out. It will be interesting to see if the reach percentage on posts goes up or not. 
Is "Get Notifications" available on your page yet? Which brands would you subscribe to on Facebook?