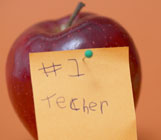 That's right, it's time to get hot for teacher.
Rich Brooks is going back to school…this time to teach. I'll be doing a gig with the University of Southern Maine Continuing Ed program. This four-class course has a working title of Web Marketing for Entrepreneurs.
During the course we'll look at how to build a successful Web site, how to attract qualified leads to your site, how to convert visitors to customers, search engine optimization, email marketing, blogs, viral marketing, podcasts and more.
If you're an entrepreneur or small business owner and within driving distance of the USM campus in Portland, Maine, you should consider taking this course.
The dates are April 5th, 12th, 26th and May 3rd. April 19th is evidently spring break, at which time we'll all being going down to Cabo for the week.
The classes will be held from 4pm – 6pm, which I think is the best possible time for entrepreneurs, who can't exactly take 3 hours off in the middle of the day, even when it's important.
I think the course is going to be $195, which is a good deal for 8 hours. Plus, we'll be reviewing students' Web sites and Web marketing strategies in class, since the entire building is wi-fi enabled. Sweet!

Rich Brooks
O Captain! My Captain!