Visibility. Traffic. Conversion.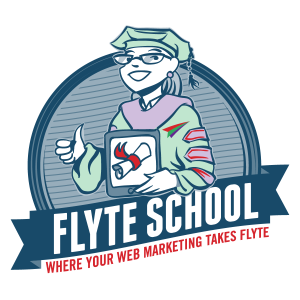 This simple approach is what's behind successful Internet marketing.
You need to increase your online visibility through SEO and social media.
You need to drive more qualified traffic to your website.
You need to convert more of those visitors into subscribers, leads and business.
If you're looking for sound strategies and actionable steps to grow your business using the web, you've come to the right place.
The one thing you need to do.
I'm assuming you're here because you want to discover how to generate more business from the web.
If that's true, than the one thing you need to do right now is get free updates from flyte delivered to your inbox. By subscribing you'll be able to stay ahead of the curve and your competition.
You won't need to do anything else, as the best, most practical advice will be delivered free right to your inbox, fresh as the day it was baked.

Free.
flyte's web marketing blog: Are you looking for the latest tips and tricks for using social media and ranking higher at the search engines? Step-by-step how-to videos for improving your online marketing? Practical advice for building your email list and generating leads from your website?
Our marketing blog has all that and more. You can also have it delivered for free to your inbox so you'll always get the latest updates.
Marketing Webinars & Seminars: We put on a lot of live presentations, both on the web and in person. Almost all of them are free, although if we're speaking at someone else's conference or event, there may be a charge.
Inexpensive.
On Demand Webinars: All of our webinars are archived and available on demand for an insanely low price. Whether you're looking for advice on Facebook Marketing or How to Use Twitter for Business, you'll get an amazing amount of value from these presentations.
Invaluable.
SEO & Social Media Consulting: Overwhelmed with information? Need specific help with your digital marketing needs? Or looking to outsource your Internet marketing to experts?
Let us develop a Digital Marketing Action Plan tailored to your business needs. You can also get training for implementing the plan, or even outsource all the work to us.
To learn more about our social media and Internet marketing consulting and outsourcing, contact us today.
Other Outposts.
The Agents of Change Podcast: Get great marketing advice as flyte's president, Rich Brooks, interviews marketing experts from around the world on how to use search, social & mobile to reach more of your ideal customers.
YouTube: Do you like to watch? If so, be sure to check out our YouTube channel, filled with how-to videos on social media, Google Analytics and more.
Facebook: Hanging out on the world's most popular social network? Head on over to flyte's business page to ask a question, discover something new, and get to know the crew.
Twitter: Here you'll find us sharing some of the best advice on Internet marketing from around the web. Give us a follow and say howdy!
Google Plus: If you like to get your information from Google's social network, be sure to add flyte to your circles.
Pinterest: While we won't share recipes or wedding dresses here, we will share marketing resources, cool infographics, and anything else you need to grow your business.
LinkedIn: Honestly, we don't do much here as a company, but some of us are active as individuals.