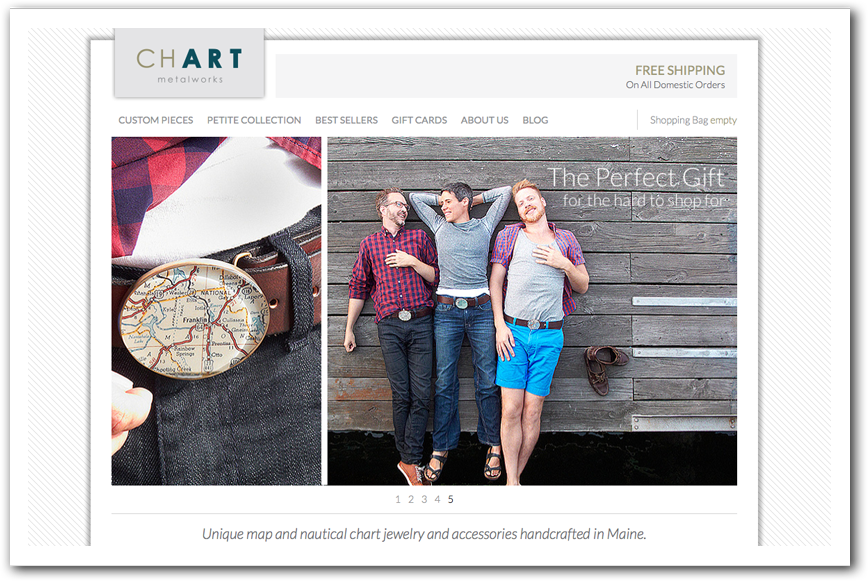 The Client:
CHART Metalworks creates custom nautical-themed jewelry "for you to tell your own story."
The Objective:
Promote and sell more nautical jewelry through a redesigned e-commerce site.
The Tools:
The site was build on WordPress. The shopping cart is Shopp. The design and development came from flyte new media.
The Outcome: 
CHART Metalworks re-launched their e-commerce website that showcases their products, custom jewelry options, and upcoming events and new products. It features custom pieces, best sellers, gift cards, and a blog.
Responsive Web Design = Mobile Friendly
Since a growing percentage of CHART Metalworks' customers and info seekers have mobile devices in tow, the site was built to be responsive. That way, it's optimized for desktops, tablets and smart phones or whatever size screen is being used.
Site visitors can…
Order Custom Pieces: This page lets visitors add custom coordinates to map necklaces, map earrings, map bracelets, accessories for the home and body and menswear.
Purchase Gift Cards: The new CHART site has a page to let customers purchase gift cards in various denominations and send electronically for purchase via the website or at their brick and mortar store.
Purchase Pre-Made Best Sellers: Check out what items are the most popular and order them directly from the page with options for gift wrapping, engraving, and rush shipping.
How CHART Does It
Check out this video of how CHART helps you tell your story.
Is It Working?
Just the other day we got this nice (unsolicited!) note from John:
"Since the launch of our flyte e-commerce site internet sales are up 32% in less than a month! Thanks, guys!
–John Guptill
CHART Metalworks"
Be sure to visit CHART Metalworks if you want to wear your favorite territory as jewelry, create a custom jewelry piece for someone special, and flyte new media if you need to navigate through an update or redesign of your own website.