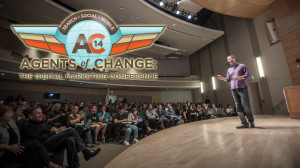 This September 26th, 2014, we're putting on our annual conference that's all about how you can reach more of your ideal customers with search, social, and mobile marketing. 
It's called the Agents of Change Digital Marketing Conference, and if you're reading this blog (or email newsletter), then chances are you're going to love it.
Imagine a full day of some today's top digital marketers sharing their best tactics and strategies on Facebook, LinkedIn, Pinterest and ranking higher at the search engines. Tips for building and engaging an audience. Advice on how to reach more customers on their mobile devices. 
In short: how to build your business in a digital world. 
That's what you're going to get at Agents of Change. (more…)